Intoducing NoBites™ – Your Ultimate Natural Protection Against Biting Insects
'Step into the world of carefree outdoor adventures with NoBites™ – the game-changing repellent solution that ensures you and your loved ones stay protected from annoying bites and insects. As the leading name in natural insect repellents, NoBites™ is here to revolutionise the way you enjoy the great outdoors!'
🦟. Safety First, Always: In Australia's diverse landscapes, insects are an inevitable part of life. With over 300 species mosquitoes and over 200 species of biting midge that call Australia home. But worry not! NoBites™ stands as your shield against mosquitoes, biting midges, ticks, and flies. Our advanced formula is designed with utmost care & backed by science making it safe for everyone, including kids. Say goodbye to irritating bites and the worry of potential diseases.
🦟. Australian-Made Excellence: Crafted right here in Brisbane, Australia, We take pride in supporting local businesses and communities. NoBites™ is a testament of quality and efficacy. We understand the unique challenges of our environment, and our unique formula is tailored to provide unmatched protection.
🦟 10+ Hours of Resilience: NoBites™ doesn't back down easily. With a lasting power of over 10 hours, it keeps insects at bay, allowing you to relish outdoor moments without interruptions.
🦟 The Key to NoBites™'s Success: NoBites™ unique formulation harnesses the power of Citriodiol®, nature's most effective insect defense. Derived from sustainably sourced plants, both our key ingredient & formulation have passed the most rigorous safety and efficacy tests to receive its APVMA approval. In fact, it is backed by renowned authorities such as the Centre for Disease Control (CDC) and World Health Organization (WHO).
🦟 Your Outdoor Companion: From picnics to camping, BBQ's and evening strolls, NoBites ensures that your outdoor experiences remain memorable or all the right reasons. Bid farewell to constant swatting and itching!
🦟 Kind on Kids: NoBites™ is 100% Kind on Kids. It is safe for use during pregnancy and gentle on sensitive skin. You can have peace of mind knowing that you are choosing a repellent that is not only effective but also safe for the whole family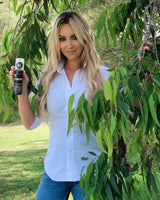 REPELS A VARIETY OF BITING INSECTS
MOSQUITOES
MIDGES
SANDFLIES
BLACKFLIES
TICKS
| | |
| --- | --- |
| DEET FREE | CRUELTY FREE |
| 10 HOURS PROTECTION* | PLANT BASED-FORMULA |
NOBITES™ HAS GOT YOU COVERED
REAL PEOPLE, REAL STORIES
Our customers are at the heart of our mission. Here's what they have to say about their experience with NoBites™:
"NoBites was my trusted companion during my camping trip. I didn't get a single mosquito bite!" – Sarah, Brisbane.
"I am relieved to find a repellent that's safe for my children and doesn't have an overpowering scent." – Mark, Sydney.
Join the NoBites™ Family Today!
We invite you to discover the NoBites™ difference. Try our natural, plant-based repellent and experience first-hand how it keeps biting insects at a distance. Find your closest stockist HERE or we offer free shipping on all orders over $20 across Australia in our Online Store.
Choose NoBites™ – because when you're protected, the great outdoors is yours to savour.
FOLLOW US ON INSTAGRAM @NOBITES_REPELLENT
Testimonials
This is the best for using on kids to avoid bites. And it actually works! The smell is amazing. Knowing it is all natural is also a win

Belinda.M
This stuff is the BEST mozzie repellent we have ever tried. Mozzies *adore* my husband and this is literally the only thing that has ever genuinely worked, including Deet and Bushman. It's the bomb!

Jo
I'm so happy to say that at long last I've found a mosquito repellent (Nobites) that has actually worked for my husband.
Great product. Will definitely reorder.
Thankyou!!!

Debbie.N